The very sight of this magnificent creature makes people stand awestruck and amazed at nature's wonderful creation whilst dominating us in its presence. Supposed to be our Country's National Animal- The Tiger is now facing something it didn't encounter, a century ago.. Humans. We humans are posing a great threat to the Tiger population.
Tigers are poached for their skin, teeth, claws and its genitals. It makes me hang my head in shame each time I see or read about animal poaching, not just Tigers, for I know I am a part of the more dominating and cruel species called Man.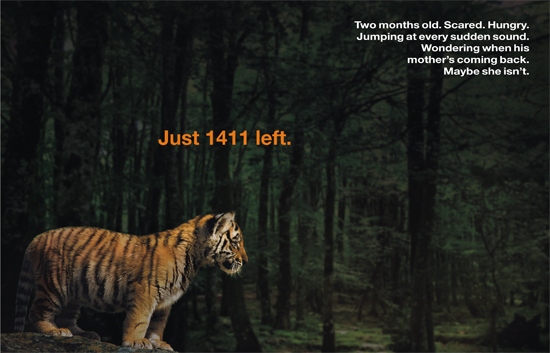 From around 40,000 at the turn of the last century, there are just 1411 tigers left in India. If we don't act now, we could lose this part of our heritage forever.
What started as a Royal Sport during the olden times is now a target of Poaching and Depleting Habitat. Our National Animal is fighting for its life!
We deprived the Tigers from their natural habitats and restricted them to small patches of greenery called Tiger Reserves. They were happy and didn't intervene. Neither did they revolt. If this wasn't enough, we're going into their lands and poaching them. How much more? Religious superstitions and misconceptions about "MAGICAL" properties each part of the Tiger has, has led to its near extinction. PLEASE think more than twice before you even think of hurting this magnificent creature. Any animal for that matter. Protect the nature and take part in its well being and Nature will make sure we greedy creatures get a lot more than we deserve.
Our National Animal is Fighting for its Life. Show your SUPPORT!!
To Join the Roar, click this link->

If you want to do anything which will help this cause, click this link->

Every little contribution helps. Raise your Voice, show your support. We can NOT let our National Animal fight its battle alone. Do what is Right. The Right thing is to make sure the Tigers are given their basic rights- To live without fear.
To everyone who reads this blog: Please
Join the Roar
even if you don't have time to support the cause. Every Roar strengthens the chain.
Note: Some content has been directly copied from www.saveourtigers.com.
~~Peace
R.o.H.i.T....