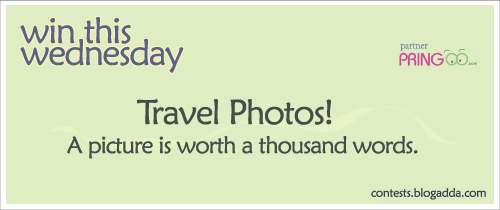 Well, this is after insistence from my foe that I post my travel photos on my blog to take part in the Blogadda Travel photos contest.

This has been a last minute affair right from the beginning. On Friday, she asked me to register myself into Blogadda and submit my blog. And I did that. I didn't quite get the mail from Blogadda about my blog approval. So I submitted my blog again, yesterday.. :D
Blogadda finally approved my blog today and here I am, uploading pictures and stepping into the past with those photos, to get an appropriate beautiful description for them :D..

Alright! I won't blah blah anymore.
This photograph was taken at Pakhal Reserve on 2nd May '09. I along with my bikers group had gone to Pakhal. Left-Right: Bhanu, Me(RoHiT), Raghu and Prashant. This was taken after a couple of attempts and this one was PERFECT! This was after 240 kms or more of riding our bikes, hardly any rest and the sunset on the background over the lake. We couldn't have asked for more. I had a nice conversation with Nature here. One of the most soothing moments of my life. If I ever write a book, this IS going to be my cover page.
28th Nov '09- Srisailam Long ride.--- My Bikers group again. Just a part of them . Tired, we decided to take a break. We still had a long distance left to reach our destination. TRAVEL CONTINUES!! In the photo(L-R): RoHiT, Subbu, Prashant and Raghu. Cracking a random joke! J.. The picture just goes to show we're all geared up for another 200 kms though it'll hurt our butts a lil' bit :D
30th May '09- Biker's Trip to Vikarabad--- Captured this whilst in the Anantagiri forests. It was here that we came across hundreds of Peacocks and a couple of wild boars. Nature at its best. This photograph is something I'll treasure for a long time. We were tired, our shadows weren't. They could go on as long as we could. Amazing!
5th Feb '10- Trip to Vishakapatnam(Vizag)—A very beautiful formation. A mollusc's home. Now vacated.. Nature's beautiful!! This picture only goes to prove that Nature finds a way to make use of everything it contains. In this case, a shell which was once a mollusc's home. :)
26th Dec '09- Bidar fort. The sunrays hitting the walls of the fort, making it gleam like gold. I stood staring at these walls till sunset. What a sight it was!
There are tons of other pictures which've been clicked during my travels, but they'd suit a contest related to nature/life. I'm sure i'll share them with you sometime in this Super TRAVEL called Life.
Hope you liked my pics.


~~Peace
R.o.H.i.T....